Press Releases about German Bense's bossa nova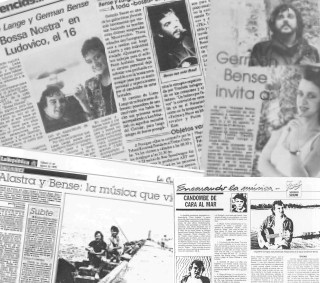 His artistic career can be divided in two defined stages . First (between 1982 and 1995) in which he develops continuous activity in the local scene, reaching his maximum tips of popularity between 1990 and 1992. Second, since the year 2000 to date, in which he introduce his music to the international scene through Internet. In this stage, Bense has reached very high worldwide popularity levels, particularly between the Bossa Nova and Brazilian music fans. This fact is relatively unnoticed in his country, because its public not yet has become familiar with the on-line music modality, area on which the songwriter indeed has based the diffusion of his music
First Stage: 1982-1995
1990 - The press and people begin to know German Bense' bossa.
"Sábado Show" (Newspaper "El Pais"), 10/03/1990
1991
Magazine "Sábado Show" (Newspaper "El Pais"), 19/01/1991
Newspaper "El Diario", 14/02/1991
The days 8, 15 and 22 of August of 1991 three gigs are made that although the History forgot, mark a landmark for a generation of artists. In the gigs cycle "German Bense Invita", made in the theater "El Tinglado" of Montevideo, Bense was the host of young musicians; about these artists, years later it will be spoken much. Bense shares in these dates the scene with Claudio and Rossana Taddei and Liese Lange, later will be famous artists in the local scene, as well as also with Jorge Drexler , whose reputation at Latin American scene will be later remarkable, having reached a nomination to the "Latin Grammy" in the 2002 and the "Oscar Award" winner in 2005. And of course, German Bense, that more than one decade later would head the Bossa Nova and Jazz charts in different Internet on-line music sites around the world. Thus the newspapers emphasized that event:
1992 - German and the notable singer Liese Lange, release together a bossa nova show that would be to become classic at the Montevideo's night, until the dissolution of the duo in 1995.
Second Stage: 2000-?

In 2000 German Bense reappears in a totally different context: Internet. Slowly, their songs begin to be listened and to be appreciated by the interncional public. In this stage, several journalists of diverse world countries begin to be interested in the Bense's music making as much inteviews as reviews of his songs. Also in this period, the songwriter obtains several #1 positions in the international bossa nova and jazz music charts.
INTERVIEWS and REVIEWS in bossa nova blogs

Bengal's Corner (USA)

German Bense in "The Rio Times" (Brazil)
Luciana FaleiroS (in Portuguës)
Other comments:
Editor's review at Download.com
"Brazilian rhythms and vocal harmonies are performed with dexterity and passion by German Bense. A fabulous memento of Stan Getz's bossified era, the music faithfully imparts a sense of nostalgia, while retaining the unique blend of its Afro-Uruguayan style."
Lance-K at "Gods of Music"
"...It has just enough off intonation in the male vocal line to remind one of the earnest
offerings of Astrud Gilberto or her ex Giao (Joao Gilberto), and in a sense recalls the
American Michael Franks with respect to smooth whisper quality. Overall excellent smooth jazz bossa nova worthy of any mellow cafe gathering or romantic mood..."
Ed Drurry at RandomArtist
"...The combination of precise guitar, accoustic piano and poetic lyrics takes the
listener to that special place which one only visits (if they are lucky enough) once
in a life time..."
Justin Stone at "Gods of Music"
"...The chord progessions are so smooth and the vocals are very warm and relaxing. Much like a solo serenade for you and your loved one as you travel the sites and sounds of a lost getaway. Nobody but you,y our girl, and a soft voice keeping the mood "just right"..."