BOOKING A BOSSA NOVA MUSICIAN: GERMAN BENSE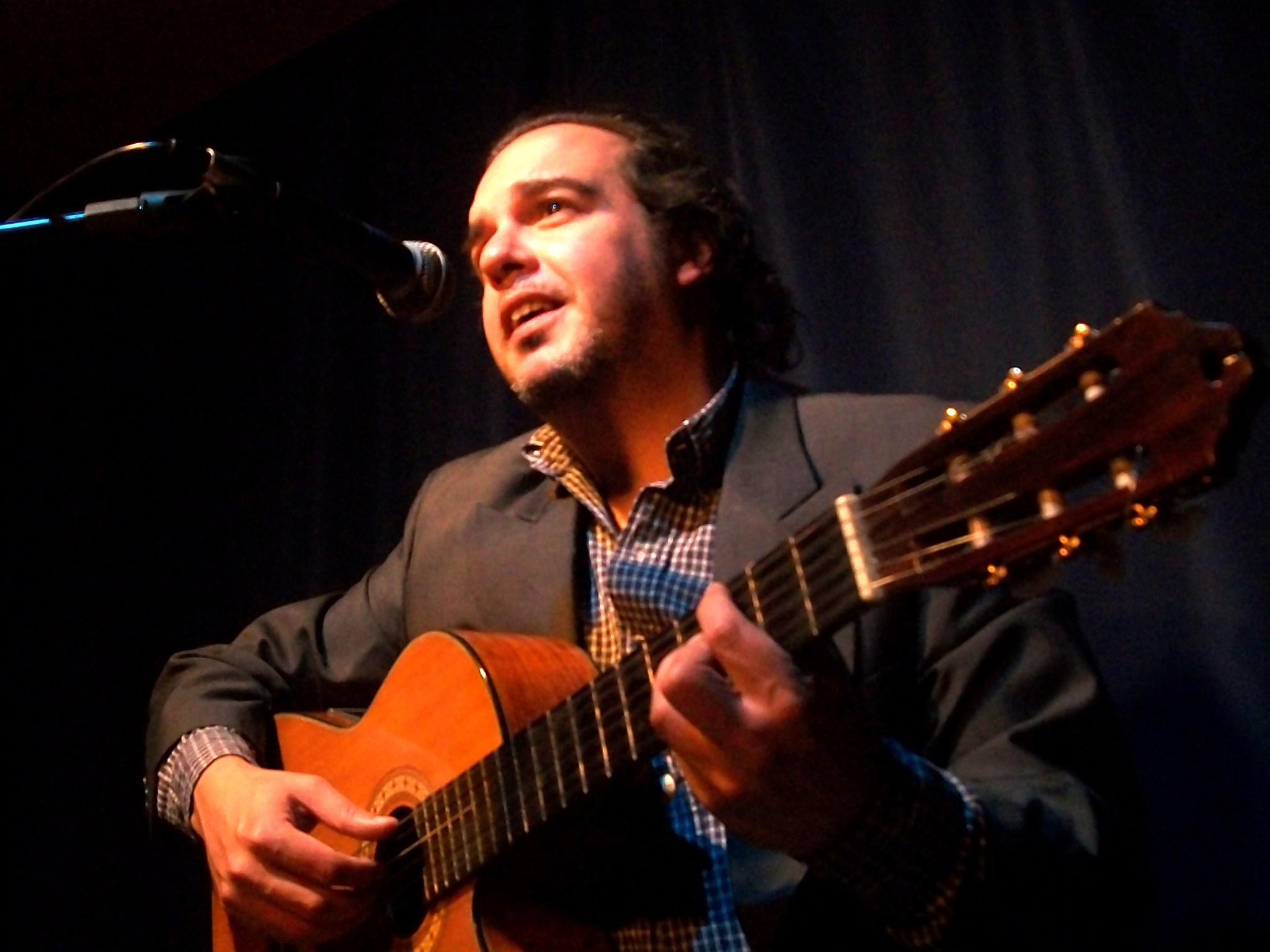 TYPICAL SET LIST: Regarding the Bossa Nova and the Brazilian Popular Music (MPB), the musician German Bense plays in his shows "standars" of that genre ("Mas que nada", "Garota de Ipanema", "Wave", "Voce e eu", "Corcovado", etc., for example) as well as songs of his own authorship that have been widely and very successfully disseminated through internet (videos, mp3, online shows, etc..). While this is the proposal that the artist offers to the international public at large, German Bense may, if the booker wishes, performing concerts with a set list composed with songs of his own authorship exclusively, or vice versa, with a set list composed only with bossa nova and Mpb classics, all depending on the kind of show contracted.

THE SHOW: German Bense performs alone with his guitar and his voice, in the classic style of the Brazilian musicians of the genre (João Gilberto, Caetano Veloso, João Bosco, Chico Buarque, etc..) That format gives to his shows a fluid communication, very intimate, trying to establish a connection public-artist in the classic style of the bossa nova's "Cafe Concert" ("Toquinho - Vinicius de Moraes" from "La Fusa," for example), trying in that way, to ensure that the public be a protagonist of his shows.

GEOGRAPHIC AREA: While German Bense has no intention of emigrate from his native Uruguay, the main goal of the artist is presenting his live music to international audiences. In summary, German Bense has proposed to continue making concerts and/or mini-tours (as has already done), mantaining his residence in Uruguay. This proposal is supported by the wide dissemination that his music has been obtained through internet since year 2000, his tours already done that have been very successfullys (Rio de Janeiro, Buenos Aires, Mar del Plata), as well as the unipersonal nature of his shows respect to the cost of the travels, accommodations and show pricing.

SHOW PRICING: Depending on the contract, subject to negotiation.
MUSICIAN COUNTRY OF RESIDENCE: Uruguay
CONTACT: productoraproduccion@gmail.com
Tours and outstanding international performances

GERMAN BENSE RIO TOUR, JULY 2009
GERMAN BENSE

ESPAÇO CULTURAL MAURICE VALANSI


Date: Wednesday July 15 of 2009, Time: 8:30pm

Price: R$ 20,00

Address: Rua Martins Ferreira, 48 - Botafogo - RJ Phone: (21) 2527-4044

GERMAN BENSE SÃO ROQUE


PROJETO "SÃO ROQUE É BOSSA"


Date: Tuesday July 21 of 2009, Time: 9:00pm

Couvert Artístico: R$ 20,00

Address: Av. General San Martin, 1.227 - Leblon - RJ
Tel: (21) 2512-8623

GERMAN BENSE


Date: Thursday July 23 of 2009, Time: 8:00pm

Price: R$ 10,00

Address: Av. Carlos Peixoto, 140 - Botafogo - RJ Phone: (21) 2295-7015

Special featuring: GERMAN BENSE


Date: Friday July 24 of 2009, Time : 10:00pm

Prices: Setor Palco: R$ 60,00 | Setor A: R$ 50,00 | Setores Par e Ímpar: R$ 40,00

Address: Rua Adalberto Ferreira, 32 - Leblon - RJ Phone: (21) 2274-4022

PROJETO "BOSSA NO FORTE"

Date: Sunday July 26 of 2009, Time: 6:00pm

Price: Free

Address: Av Atlântica Posto 6 Copacabana Rio de Janeiro-RJ Brasil - Tel: +55 21 2521-1032
GERMAN BENSE RIO TOUR, OCTOBER 2011
GERMAN BENSE - VINICIUS BAR

TWO SHOWS!


Dates :

10/25/11 Tuesday Hour: 10:30pm

10/26/11 Wednesday, Hour: 10:30pm

Address: Rua Vinicius de Moraes 39, Ipanema, Rio de Janeiro


Artist Couvert: R$25,00 Phones RJ (55 21) 2287-1497 / 2523-4757

GERMAN BENSE - FORTE DE COPACABANA
Date: Sunday October 30 of 2011, Time: 7:00pm
Address: Av. Atlântica, s/nº - Posto Seis - Copacabana - Rio de Janeiro
Free Admissin - RJ Tel: (21) 2521-1032
GERMAN BENSE RIO TOUR, MAY 2012
GERMAN BENSE - VINICIUS BAR

TWO SHOWS!


Dates :

16/05/2012 Wednesday and Hour: 10:30pm

Special Featuring: CLARA GURJAO

23/05/2012 Wednesday and Hour: 10:30pm

Special Featuring: JULI MARIANO


Address: Rua Vinicius de Moraes 39, Ipanema, Rio de Janeiro


Artist Couvert: R$25,00 Phones RJ (55 21) 2287-1497 / 2523-4757

GERMAN BENSE - FORTE DE COPACABANA

Special Featuring: CLARA GURJAO


Date: Sunday May 27 of 2012, Time: 6:00pm
Address: Av. Atlântica, s/nº - Posto Seis - Copacabana - Rio de Janeiro
Free Admissin - RJ Tel: (21) 2521-1032

PHOTOS
"2do ENCUENTRO DE BOSSA NOVA EN ARGENTINA", APRIL 2006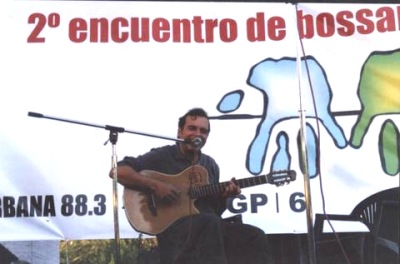 "3er ENCUENTRO DE BOSSA NOVA EN ARGENTINA", JULY 2007
"IV FESTIVAL DE BOSSA NOVA EN ARGENTINA" SEPTEMBER-OCTOBER 2008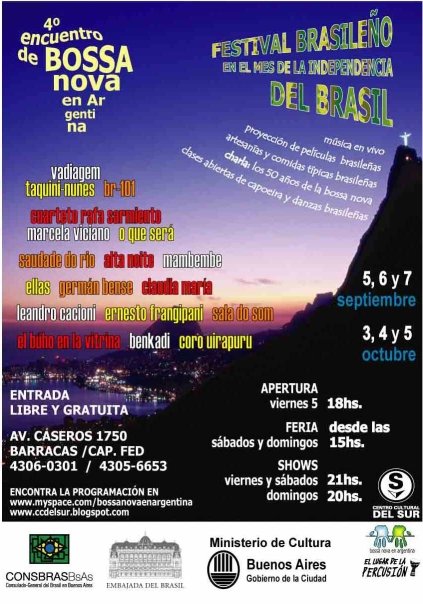 "V FESTIVAL DE BOSSA NOVA EN ARGENTINA" OCTOBER 2009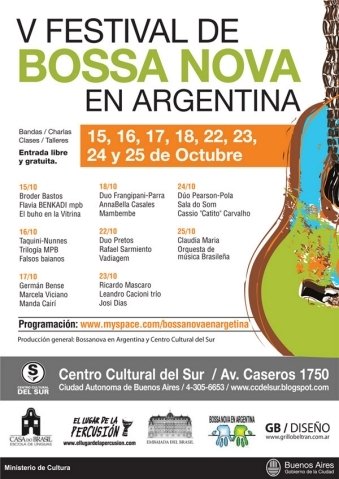 ---
FESTIVAL INTERNACIONAL "MARDELBOSSA", DECEMBER 2007
---
Listen the complete Bossa Nova album (MP3) from the playlist bellow