MAY - RIO DE JANEIRO TOUR 2012
GERMAN BENSE - VINICIUS BAR

ZWEI SHOWS!


Dates :

16/05/2012 Wednesday and Hour: 10:30pm

Special Featuring: CLARA GURJAO

23/05/2012 Wednesday and Hour: 10:30pm

Special Featuring: JULI MARIANO


Address: Rua Vinicius de Moraes 39, Ipanema, Rio de Janeiro


Artist Couvert: R$25,00 Phones RJ (55 21) 2287-1497 / 2523-4757

GERMAN BENSE - FORTE DE COPACABANA

Special Featuring: CLARA GURJAO


Date: Sunday May 27 of 2012, Time: 6:00pm
Address: Av. Atlântica, s/nº - Posto Seis - Copacabana - Rio de Janeiro
Free Admissin - RJ Tel: (21) 2521-1032
OCTOBER - RIO DE JANEIRO TOUR 2011
GERMAN BENSE - VINICIUS BAR

TWO SHOWS!


Dates : 10/25/11 Tuesday and 10/26/11 Wednesday, Hour: 10:30pm


Address: Rua Vinicius de Moraes 39, Ipanema, Rio de Janeiro


Artist Couvert: R$25,00 Phones RJ (55 21) 2287-1497 / 2523-4757

GERMAN BENSE - FORTE DE COPACABANA
Date: Sunday October 30 of 2011, Time: 7:00pm
Address: Av. Atlântica, s/nº - Posto Seis - Copacabana - Rio de Janeiro
Free Admissin - RJ Tel: (21) 2521-1032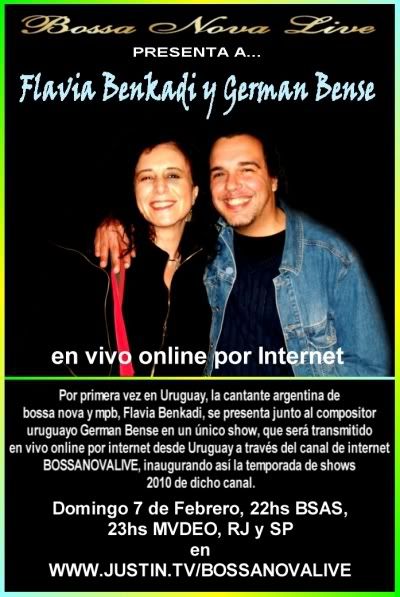 GERMAN BENSE IN ARGENTINA (OCTOBER 2009)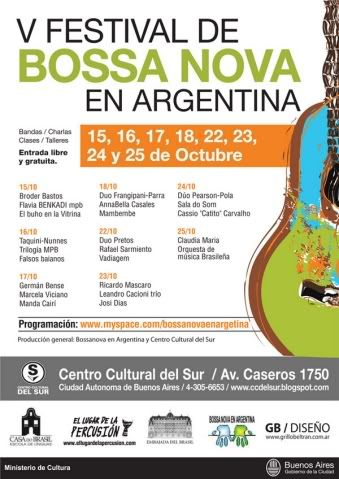 GERMAN BENSE

ESPAÇO CULTURAL MAURICE VALANSI


Date: Wednesday July 15 of 2009, Time: 8:30pm

Price: R$ 20,00

Address: Rua Martins Ferreira, 48 - Botafogo - RJ Phone: (21) 2527-4044

GERMAN BENSE SÃO ROQUE


PROJETO "SÃO ROQUE É BOSSA"


Date: Tuesday July 21 of 2009, Time: 9:00pm

Couvert Artístico: R$ 20,00

Address: Av. General San Martin, 1.227 - Leblon - RJ
Tel: (21) 2512-8623

GERMAN BENSE


Date: Thursday July 23 of 2009, Time: 8:00pm

Price: R$ 10,00

Address: Av. Carlos Peixoto, 140 - Botafogo - RJ Phone: (21) 2295-7015

Special featuring: GERMAN BENSE


Date: Friday July 24 of 2009, Time : 10:00pm

Prices: Setor Palco: R$ 60,00 | Setor A: R$ 50,00 | Setores Par e Ímpar: R$ 40,00

Address: Rua Adalberto Ferreira, 32 - Leblon - RJ Phone: (21) 2274-4022

PROJETO "BOSSA NO FORTE"

Date: Sunday July 26 of 2009, Time: 6:00pm

Price: Free

Address: Av Atlântica Posto 6 Copacabana Rio de Janeiro-RJ Brasil - Tel: +55 21 2521-1032
2008
GERMAN BENSE

CALENDARIO - SCHEDULE

With Mariana Moraes
Thursday August 7, 9:30PM
Restaurant Planta Alta
Mercado de los Artesanos
Plaza Cagancha 1371


MONTEVIDEO

URUGUAY

Saturday August 23, 10:00PM
Toque Café
Stella Maris y Garcia Lagos
Parque de Solymar


CIUDAD DE LA COSTA

CANELONES

URUGUAY

1er FESTIVAL DE MPB MONTEVIDEO
Wednesday September 10, 8:PM
Sala Zitarrosa
Avda. 18 de Julio 1012

MONTEVIDEO

URUGUAY

IV FESTIVAL DE BOSSA NOVA EN ARGENTINA
Friday October 3, 9:00 PM
Centro Cultural del Sur
Avda Caseros 1750, Barracas


BUENOS AIRES

ARGENTINA
12/12/2007 y 13/12/2007 09:30 PM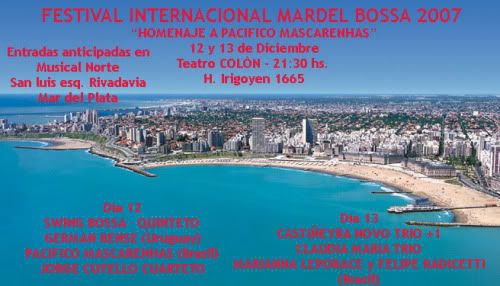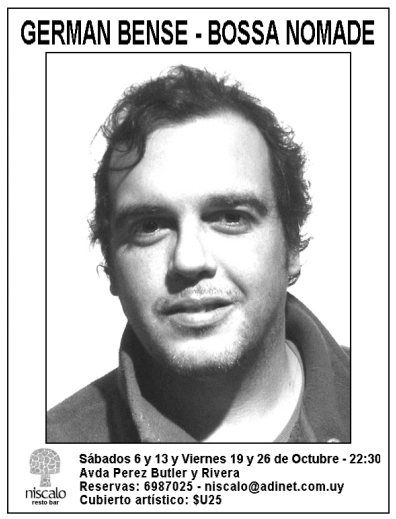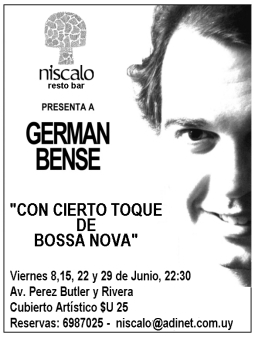 July 4 07:00 PM
Club Lounge Buenos Aires
RECONQUISTA 974 - RETIRO
Buenos Aires, Argentina
Tel: 4515-1020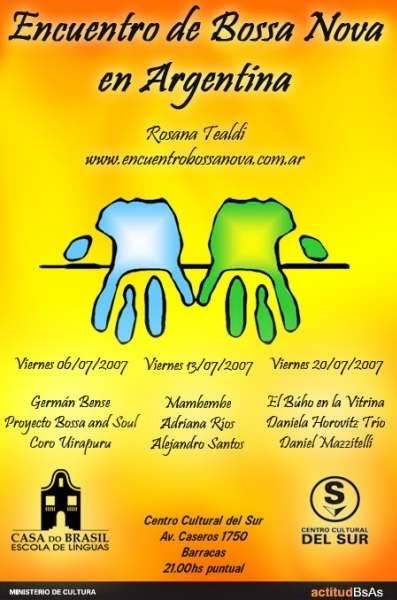 GERMAN BENSE LIVE:
"CON CIERTO TOQUE DE BOSSA NOVA"
JANUARY 2007
Thursday January 4, Thursday January 11 and Friday January 12 at 9:00 PM.
at
MAHAGUNA
Ruta Interbalnearia Km115.500, on the beach, just behind the "Cabañas del Tio Tom", Punta del Este, Uruguay.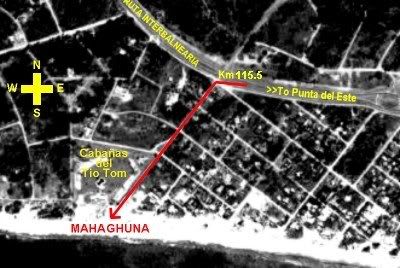 This summer German Bense continue featuring his show "Con cierto toque de Bossa Nova" (With certain touch of Bossa Nova) at Punta del Este, Uruguay. In the style of the classic Brazilian trouvadors, Bense presents an unipersonal show (voice and guitar), including in his repertoire an anthology of his songs published in his CDs "Opus Bossa Nova", "Desafinados como eu" and "Love song in vain", including also bossa nova "standars" of authors like Antonio Carlos Jobim, Vinicius de Moraes, Joao Bosco, Roberto Menescal and others. This show is part of the gigs series that will continue during 2007 in Buenos Aires, Rio de Janeiro and other places that it will be fixed.If you will be visit Punta del Este in January, or you know somebody that will travel to this place in that dates, this is an excelent oportunity to view a German Bense's live show.
OCTOBER 2006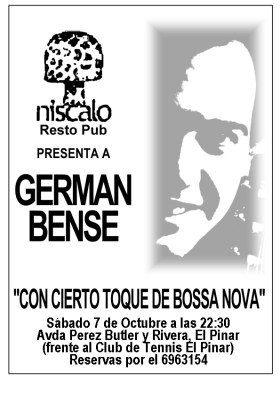 APRIL 2006

GERMAN BENSE IN THE "2do ENCUENTRO DE BOSSA NOVA EN ARGENTINA"
Click in the artists schedule links for visit their websites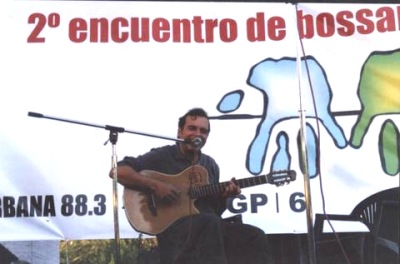 Main site of the group "BOSSANOVAENARGENTINA"
MARCH 2006

FEBRUARY 2005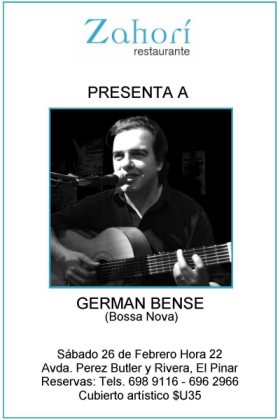 NOVEMBER-DECEMBER 2004


JANUARY 2004

On Friday January 9 of 2004, German Bense presented at "El Pulpito" restaurant-bar of La Barra, Punta del Este, his bossa nova show. One week later, Friday 16, German Bense was invited to share the scene by the famous Argentine singer-songwriter Sergio Mihanovich, author of unforgettable songs like "Some Time Ago", "Amor y Decepcion" and "Un Argentino en Brasil", among other titles that received fame at world-wide level. Also, the great Argentine singer Vicky Buchino participated in that evening, interpreting boleros, bossa nova and classic jazz songs. Under these lines we can see some photos of those two unforgettable nights at "El Pulpito", a warm and cosy place for the public of all the latitudes who all the years visits Punta del Este, inserted in an ideal natural frame to enjoy the best international music.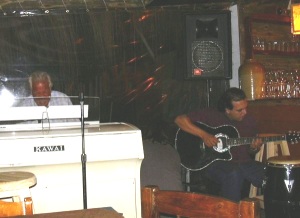 Sergio Mihanovich and German Bense singing "Amor y Decepción"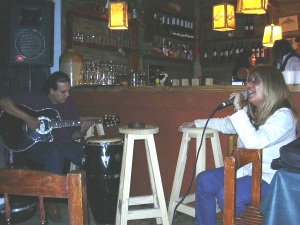 Vicky Buchino and German Bense singing Tom Jobim's "Desafinado"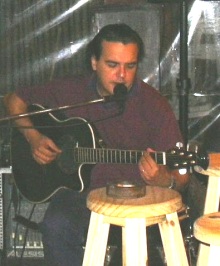 German Bense singing his "What kind of love"



BACK TO MENU