German Bense Bossa Nova
Welcome to the Bossa Nova singer songwriter German Bense's website. In these pages, you will find information about his past and present performances (biography, news and shows, Cds, photos), as well as detailed stuff about his work (lyrics and chords for guitar, piano sheet music, melodies, mp3 audio files of his songs, and videos of mostly of his bossa novas). If you like, or your're a passionate of this kind of music, here, you have the opportunity to discover something new.
---
Listen the complete Bossa Nova album (MP3) from the playlist bellow
---
Really, your will be the judge of the German Bense's work, and you will be the one who decides if he deserves to play an outstanding role in the bossa nova worldwide scene...A world reigned by the voice and the guitar of Joao Gilberto, the warmth of Stan Getz, the sweetness of Astrud Gilberto, the poetry of Vinicius de Moraes and the genius of Antonio Carlos Jobim...
German Bense was born in Montevideo, Uruguay in 1963, and begun study piano and theory in 1977 (until 1979 at the Instituto Kölischer).
He begun to play guitar and study harmony in 1979 at the age of 15. He begun playing jazz. 
His teacher turned his attention to the jazz and this music captured him soon, specially due its harmony. He becomes a "chord alchemist" as his teacher. He being interested in the bossa nova, because his teacher, Juan Lamas, was a great Bossa Nova master. Lamas crossed the world playing Bossa Nova in years in which this musical genre was not more than an interesting curiosity. He was responsible for initiated German Bense in that way making him appreciate the cadence of its rythm an the alchemy of its harmony.
By 1980 much bossa nova was played in his country. Being minor age, he entered secretly the night clubs to listen to live music (often they discovered him and they trew him out). In these years his teacher was one of the first musicians at Montevideo's night and Bense, who wished to be a professional musician like Lamas, watched his shows to learn as much as possible. Education did not finish in the classroom...
During his amateur period (1979-1981) he played in several bands being his most highlighted appareances in 1979 (won the TV Conquest "Estudiantina" playing guitar in a bossa nova band) and in 1981 playin dixieland in the "Luisiana Jazz Band".
In 1982, German Bense start his professional musician carrer as a bassist and guitarist playing in several Montevideo's night clubs. In the same year he wrote his first songs. In 1984 he won the "Revelation Award" in the "Festival de La Paz" (Uruguayan Popular Music) and begun an ininterrupted activity at several Montevideo's clubs (until 1995).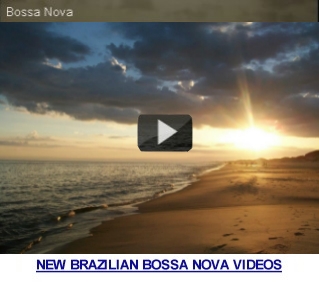 In 1985 he begun his performances as guitarist, bassist and singer at "Clave de Fu", a legendary Montevideo's brazilian music night club. One year later he was bass guitarist and arranger of the Mario "Chichito" Cabral band, mythical Uruguayan percussonist and songwriter. Finally, between 1992 and 1995 share with the singer Liese Lange a duo called "Bossa Nostra", since today remembered as a Montevideo music classic.
In 1989 German Bense record and publish his first CD, "Despues de todo", shared with the songwriter Jorge Alastra and one year later he record and publish his second CD, "Quimera".
During 14 years uninterrupted he play bossa nova covers at night clubs, songs like The girl from Ipanema, Desafinado, How Insensitive, Mas que nada, Quiet nights of quiet stars, Summer samba, between others, until he had to leave his artistic activities for personal reasons in June 1995. This retirement, apparently definitive, gave an unexpected turn. Surprisely, in August 2000, German Bense inaugurates his mp3.com web site. This fact means his return to the professional musician activity, after five years of absence.Since that date, all things have changed for Bense. The success of his mp3.com site encourage him to write new bossa nova songs and record a new album, "Opus Bossa Nova ", that is published in that site in October 2001, and which obtains great acceptance. That CD marks his return to the stage, but in that case, not sent only to the local scope, but rather, directed to the brazilian music lovers anywhere in the world, reaffirming also, his clear intention to center in the bossa nova the axis of his work. German Bense return to the live performaces and at the end of that year he publish at mp3.com a new CD called "Desafinados como Eu" and during the years 2003 and 2004, his activity was centered in live performances.

In june 2005 he publish his new cd, "Love song in vain" (Perro Andaluz Records).

2006: German Bense is invited to participate in the "2do Encuentro de Bossanovaenargentina" (unique event of these characteristics in the world made in Buenos Aires, Argentina), sharing the scene with Argentinian and Brazilian musicians and composers. He performs on 9 of April of 2006.

In July 2007 German Bense presents his show again in Buenos Aires, in the "Club Lounge Buenos Aires" and in the "Centro Cultural del Sur", as part of the "3er Encuentro de Bossa Nova en Argentina".

Also in 2007, the Bense's song "The lack of love" is included in the soundtrack of the film "Butterfiles in the wind", by the US independent producer and director Vic Alexander. The premiere of that film was on September 29 of 2007 in the "Ava Gardner Film Festival", Smithfield, North Carolina.

In December 2007 Bense participates in the 3rd edition of the "Festival Internacional Mardelbossa" (Mar del Plata, Argentina), in whee he shares the scene with outstanding Argentinian and Brazilian musicians.

2008 - The Venezuelan singer Indira Briceño record his old song "Barco sin puerto"

In September 2008 the artist perform in the "1er Festival de Musica Popular Brasileña de Montevideo" (Uruguay), and in October of the same year performs in the "IV Festival de Bossa Nova en Argentina", Buenos Aires.

In Dezember 2008 German Bense do his first and historic live concert trough Internet in his channel BOSSANOVALIVE



2009 represents a pivotal year in German Bense's career. In July, the composer performed with great success his FIRST ARTISTIC TOUR IN BRAZIL, featuring his own bossa nova compositions for the first time in Rio de Janeiro. (Bar do Tom (Leblon), Espaço Cultural Maurice Valansi (Botafogo), Projeto São Roque é Bossa (Leblon) , Tabuleiro da Baiana (Botafogo), Forte de Copacabana (Copacabana))
In October he performs again in Buenos Aires, in the "V Festival de Bossa Nova en Argentina".

And throughout 2009 and 2010, Bense continues his live online concert series through Internet (WWW.JUSTIN.TV/BOSSANOVALIVE).A pioneer in this kind of disclosure, Bense consolidates in this unprecedented and direct way, an adept public from all over the world where bossa nova is liked, achieving in this way, "to entry" the house of his own audience weekly.

In October 2011 German Bense made his SECOND BRAZILIAN ARTISTIC TOUR performing in October the 25th and 26th at Vinicius Piano Bar (Ipanema) and Oct. 30 at Forte de Copacabana (Copacabana).

In early 2012, German Bense presents thorough internet two video clips of their songs "Um sonho por cumprir" (A dream that to fullfil) and "Rosto de menina, rosto de mulher" (Face of a girl, face of a woman) a Brazilian-Uruguayan co-production with footage shot in Rio de Janeiro and Uruguay (watch the videos and details of the production in the Youtube channel Bossanovatv).
And in May of that same 2012, the artist made his THIRD BRAZILIAN ARTISTIC TOUR celebrating his 30 years of artistic career. German Bense was presented again in Rio de Janeiro, repeating the performance in Vinicius Piano Bar and Forte de Copacabana.

"Desafinados como Eu", the German Bense's bossa nova tribute.

In November of 2002, German Bense publishes his CD "Desafinados como Eu", exactly forty years later of the unforgettable Bossa Nova Festival at Carnegie Hall of New York. 
In this way, the author decides to pay a tributeto those great musicians. In that distant date of 1962, musicians like Antonio Carlos Jobim, Joao Gilberto, Sergio Mendes, Roberto Menescal, Oscar Castro Neves, Carlos lyra, and other geniuses, appeared for the first time in the world-wide musical scene. Although the Bossa Nova was born in Brazil at least 10 years before, that date signified the presentation of a new musical genre to the worldwide public. Being Bense an eternal admirer of those notables artists, that album published in 2002 was his more sincere and humble tribute, not only to those giants of the music that in 1962 introduced this musical genre, but also to those musicians that from different latitudes of the world, who have continued sowing new songs and interpretations to the warmth, cadence and sweetness of the amazing bossa nova. In 2004, precisely the song "Desafinados como Eu" was included in the film "Falling" of the New York producer and director Clayton Allis, marking the begining of German Bense in the cinema industry (A new version of this song is included in the new CD "Love song in vain").

Some comments about German Bense's bossa nova.

"Brazilian rhythms and vocal harmonies are performed with dexterity and passion by German Bense. A fabulous memento of Stan Getz's bossified era, the music faithfully imparts a sense of nostalgia, while retaining the unique blend of its Afro-Uruguayan style."

Editor's review at Download.com

"...It has just enough off intonation in the male vocal line to remind one of the earnest offerings of Astrud Gilberto or her ex Giao (Joao Gilberto), and in a sense recalls the American Michael Franks with respect to smooth whisper quality. Overall excellent smooth jazz bossa nova worthy of any mellow cafe gathering or romantic mood..."

Lance-K at "Gods of Music"

"...The combination of precise guitar, accoustic piano and poetic lyrics takes the listener to that special place which one only visits (if they are lucky enough) once in a life time..."

Ed Drurry at RandomArtist

"...The chord progessions are so smooth and the vocals are very warm and relaxing. Much like a solo serenade for you and your loved one as you travel the sites and sounds of a lost getaway. Nobody but you,y our girl, and a soft voice keeping the mood "just right"..."

Justin Stone at "Gods of Music"

NEXT GERMAN BENSE'S LIVE SHOWS IN REAL TIME AT "BOSSA NOVA LIVE INTERNET CHANNEL": CLICK HERE TO KNOW THE DATE / HOUR OF THAT SHOWS IN YOUR CITY / COUNTRY
My Friends:
Musica Viva: The Free Sheet Music Directory
Mundial directory of free sheet music
Guitar-directory.com free score for guitar , tabs, notes